New year, new release. We're welcoming 2022 with Endpoint Protector v5.5.0.0, bringing new features, and integrations to help our customers strengthen their data security posture.
Check out the most important new features:
Advanced Content Detection Rules
Administrators will now be able to build more powerful policies in our Content-Aware Protection module by defining complex conditions for content scanning*. This includes combining multiple criteria (such as PIIs, dictionary words, and regular expressions) using logical operators (AND/OR), and the ability to apply content detection rules only to specific file types (such as text files, Excel files, and more).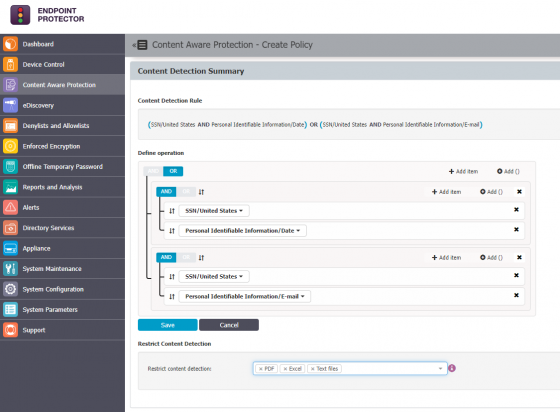 Click on the image for full size.
*Advanced Content Detection Rules are available only on our Premium plan.
Monitor webmail for Gmail
We've improved Gmail Webmail scanning capabilities with the ability to monitor the subject field and body text of emails being sent through Gmail webmail. This setting is available under Deep Packet Inspection (DPI). Note that webmail attachments are scanned regardless of this setting since this is covered by the regular web upload file monitoring.
Single Sign-On with Okta
Our latest release brings new important integrations. This includes a new integration with Okta Single Sign-On (SSO)*, thus streamlining and automating the process of managing user accounts, credentials, and privileges on third-party systems.
Report all sensitive information
Starting with Endpoint Protector 5.5.0.0, you can choose to report all sensitive data transfers being blocked by Content-Aware Protection. This new setting is available under System Configurations, where you can define a maximum number of reported threats if you still want to limit the amount of reporting.
What else is available in 5.5.0.0?
Vivaldi web browser can be monitored via Content Aware Protection module.
New PIIs: US bank account numbers, more US driving licenses, Spain ID, Spain VAT ID
For a complete list of Endpoint Protector 5.5.0.0 features and updates, please read the release notes.
* Available on Endpoint Protector Premium Plans.
Download our free ebook on

Data Loss Prevention Best Practices
Helping IT Managers, IT Administrators and data security staff understand the concept and purpose of DLP and how to easily implement it.