Endpoint Protector

Device Control
Lockdown, control, and monitor USB and peripheral ports to stop data theft and data loss.
Is your sensitive data at risk due to a lack of device management?
External devices such as USB flash drives, Bluetooth, and other portable USB devices, although harmless at a first glance, are one of the top causes for security incidents that can cause major damages to any business. Damages range from confidential data being stolen to huge fines due to violations of compliance rules and regulations. End users must be aware of the risks and for businesses to have measures in place to prevent data breaches and leakage from such external devices.
Cross-platform, lightweight agent
Remotely monitor USBs and peripheral ports across different operating systems from a simple web-based interface with no performance impact on the protected computers. Set policies with ease for Windows, macOS, and Linux, and enable USB Device Control functionality to have precise and granular control over USB devices on each operating system.
Remote and temporary access
Grant USB access remotely, even when computers are offline, while having a complete list of log reports once back in the network.
Precise and granular control
Depending on departments' requirements, specify which devices can or cannot be used, create device whitelists and blacklists, and define policies per user, computer, or group for uninterrupted workflow throughout the company.
Gain full control of USB devices, Bluetooth and peripheral ports
The centrally-managed Device Control module allows for granular control over USB device permissions, enabling full control of the USB ports and connected storage devices. This way, it prevents accidental or intentional data loss and data leaks, while also protecting the endpoints against the spread of USB malware, BadUSB attacks or viruses. With this module, businesses can centralize user access management and customize access permissions for removable device media connections.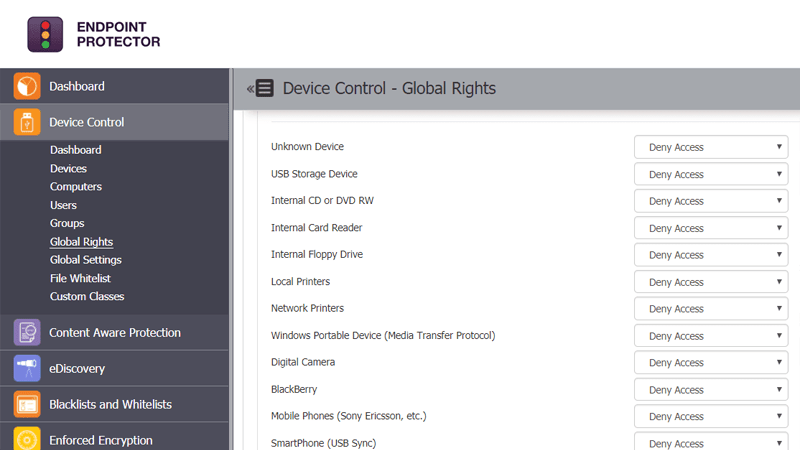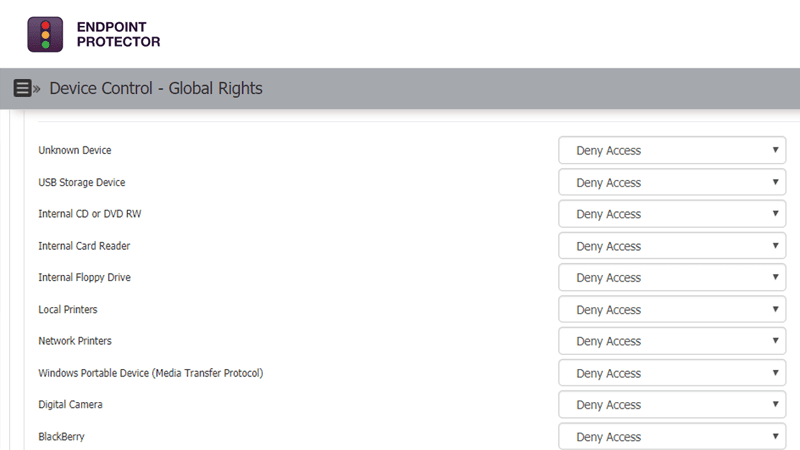 How it works
Device Control module is the first layer of security provided by Endpoint Protector. By defining granular access rights for USB and peripheral ports, device security is enforced while productivity is maintained. As a cross-platform solution, it protects the entire network, regardless of if the computers are running on Windows, Mac OS X, or Linux.
Set granular policies and monitor all USB ports and devices on all endpoints
Uniquely identify all USB conected devices
Block unauthorized device use or enforce data encryption remotely
Get reports and alerts regarding USB activity on all endpoints
Controlled device types
The Device Control module allows easy management for the majority of known USB drive types, for enhanced data protection in various work environments.
USB Storage Devices (USB Flash Drives, Sticks, Pen drives, etc.)
External HDDs (incl. sATA HDDs)
CD/DVD-Players and Burners (internal and external)
iPhones, iPads and iPods
Smartphones and Tablets (incl. Android devices, Blackberry and PDAs)
Digital Cameras
MP3 Player and other Media Player Devices
Card Readers (internal and external)
Memory Cards (SD, MMC, CF, Smartcard, etc.)
Printers
Floppy Drives
Webcams
WiFi Network Cards
FireWire Devices
Biometric Devices
Bluetooth Devices
ZIP Drives
ExpressCard SSD
Wireless USB
Serial Port
Teensy Board
PCMCIA Storage Devices
Thunderbolt
Network Share
Thin Client Storage (RDP Storage)
Additional Keyboards
USB Modems
Infrared Dongle