CoSoSys Makes Data Protection a Breeze at Infosecurity Europe 2017
Between 6-8 June, security specialists once more descended on the Olympia in London for Europe's biggest information security event, Infosecurity Europe 2017. Amid stunning Victorian architecture, vendors from across the globe unveiled their latest projects and their most successful products to a crowd of enthusiastic guests from across a multitude of industries. CoSoSys participated for the 4th time this year and our team was on hand to present and guide visitors into a demonstration of our Data Loss Prevention solutions.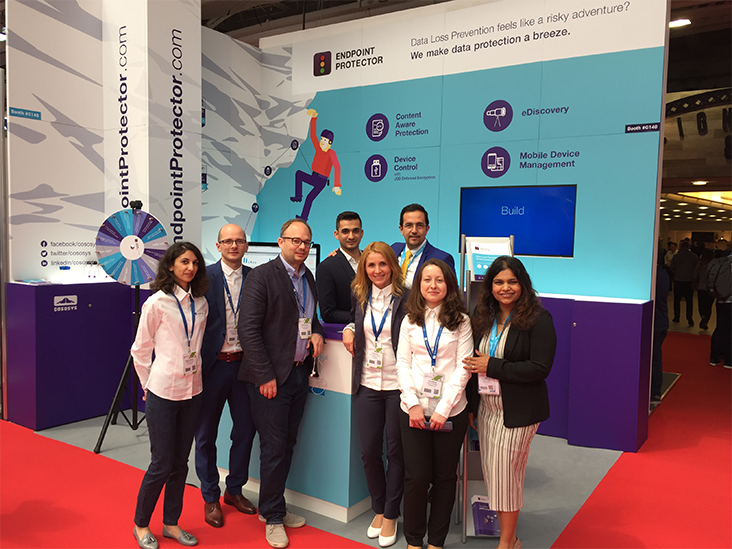 Playfulness was the name of the game in the exhibition area, with the Olympia's Grand Hall highlighting not only the tremendous growth and diversity of the information security sector, but also the creative way the over 360 vendors present have learned to showcase their products. CoSoSys was no exception: our booth's theme of making the risky adventure of adopting Data Loss Prevention solutions a breeze promoted the latest version of our flagship DLP product, Endpoint Protector 5, now with an updated eDiscovery module, a redesigned, responsive UI and additional enhancements. Our prize wheel also gave visitors the opportunity to win exclusive Endpoint Protector merchandise and goodies, with one fortunate lucky draw winner walking away with a Lego Saturn V set!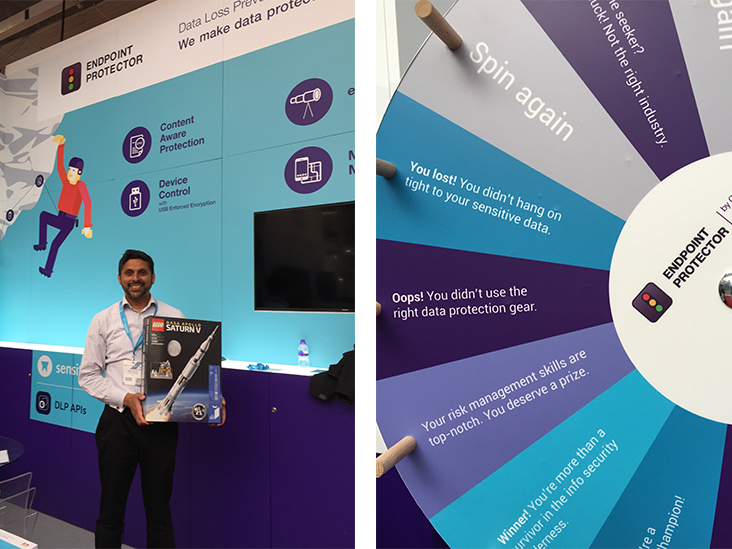 Playfulness was the name of the game in the exhibition area
The most talked about topic at Infosecurity Europe this year seemed to be the EU General Data Protection Regulation(GDPR) whose implementation in May 2018 is already looming. Time is running out for companies to bring their policies to compliance before the new regulations come into effect and they face a trigger-happy Data Protection Authority eager to prove its serious intentions. It is therefore no surprise that most visitors were interested in the ways in which information security products can help them in this daunting task. CoSoSys came prepared with a handy guide explaining the main points of the GDPR and the ways in which Endpoint Protector DLP can help them on the road to compliance.
Already at its 22nd edition, Infosecurity also sports Europe's largest and most comprehensive free-to-attend conference program, designed on a yearly basis to meet the latest needs and industry trends of today's information security professionals. This year featured keynote speakers such as journalist Jeremy Paxman, security technologist Bruce Schneier and cyberpsychologist Mary Aiken who was also inducted into the Infosecurity Europe Hall of Fame. Popular topics addressed included cyber innovation, adoption of disruptive technologies, how to deal with ransomware attacks and the need to educate the general public about cybersecurity issues.
Over 13,500 information security professionals, service providers, vendors, and thought-leaders visited the massive exhibition hall, networked, engaged and conducted business during the three days of Infosecurity Europe. From big private sector players like Vodafone, Marks & Spencer and HSBC to law enforcement agencies such as Europol and the Metropolitan Police Service and university students and staff, everyone seemed eager to take part in the event, making it increasingly clearer that every industry now has a stake in the information security sector.
Infosecurity Europe is a terrific place to network, exchange ideas and meet clients both new and old and we for one are already looking forward to next year's edition!