We are excited to unveil the newest version of our Data Loss Prevention solution: Endpoint Protector 5, presenting important updates and a brand new redesigned interface. Our aim, as always, is to constantly enhance the data protection features, while offering an intuitive user experience.
Endpoint Protector 5 presents some essential changes.
With a more intuitive design, the complex process of securing data becomes easier. IT Admins can benefit from a more user-friendly, modern, and responsive interface of the management console.
Key features and benefits of the new UI include:
Faster access to certain features, such as DLP blacklists and whitelists, which have been included in the main menu as a separate section
Flexibility – IT Administrators are now able to manage policies and check reports from any device, from desktop to tablet due to the responsive console
Intuitive design – it is easier to navigate and learn, so Administrators can focus on the actual DLP policies; the new Endpoint Protector interface is functional, simple, but still straightforward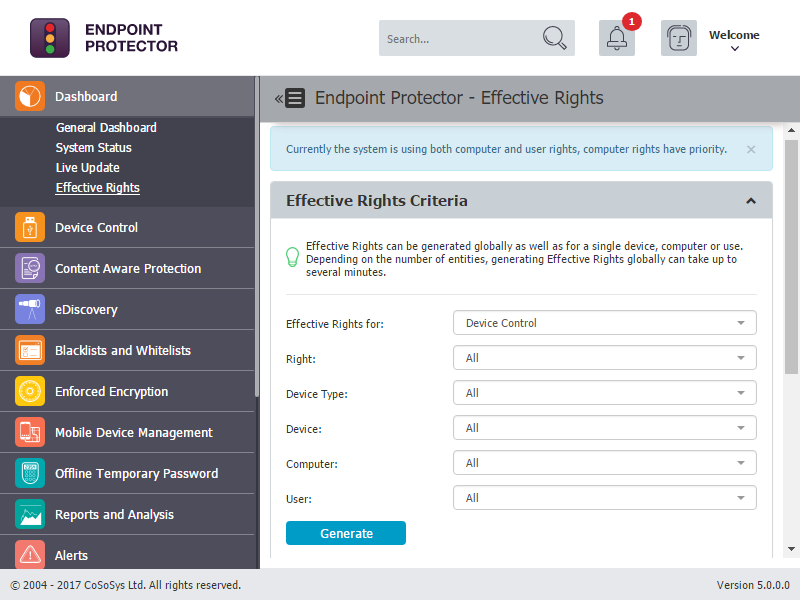 Along with the updated interface, Endpoint Protector 5 also brings feature updates for more flexible Data Loss Prevention policies that can be customized according to organizations' data protection needs.
Extended and restructured eDiscovery module
Now, eDiscovery covers multiple blacklists, thresholds for more efficient policy building, providing organizations more control over their Intellectual Property and other critical data and helping them to reach compliance with regulations like PCI DSS, HIPAA, FISMA, GDPR, and others.
New Blacklists and Whitelists section
The new section has been added to the main menu, allowing configuration at a system level for both the Content Aware Protection (DLP for data in motion) and eDiscovery (DLP for data at rest) modules. The Administrator saves valuable time making the setup once and having the possibility to further customize the blacklists and whitelists for each module. Additionally, Administrators can now import files with up to 50,000 entries for Custom Content Dictionaries which basically allows scanning and blocking the transfer of sensitive data and encrypting or deleting it if the content from dictionaries is detected.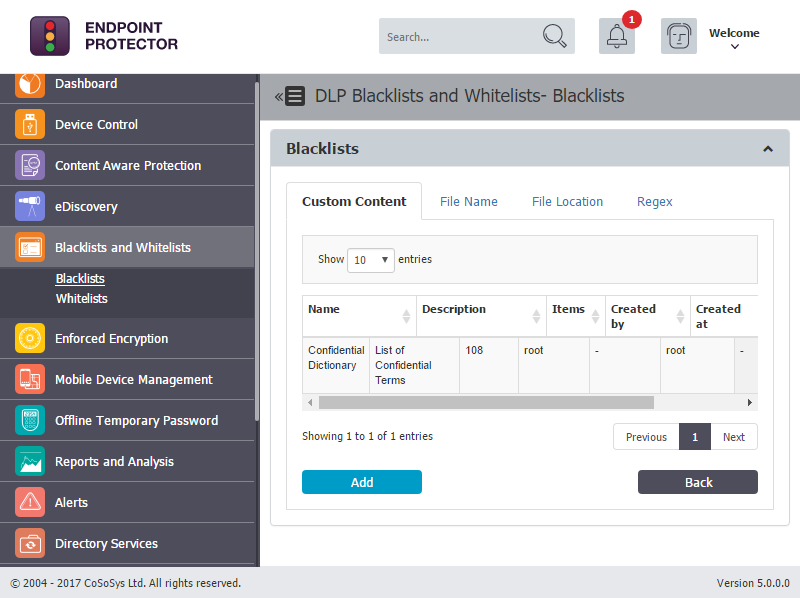 Also related to the management interface, but having an impact at a deeper level, the notification bar draws the Administrator's attention about important events, new available features, licenses status, and other events.

Integrated Support section
The Support section has been enriched with the option to include system information, server information when writing to the Support Team and to receive an e-mail copy for future reference. This facilitates the communication with the Support department, reducing the response time. Support tickets are now visible directly in the Support section of the management interface for easier access.
The new version is available from Live Update in the Endpoint Protector Dashboard starting from version 4.5.0.2. You can find the full list of features available in version 5.0.0.0 in the Release Notes. If you would like to see a demo and have a better idea on how the updates can help you feel free to request it here.
We hope your mission to secure corporate data like Intellectual Property (IP), employees and customers' data, Personally Identifiable Financial Information (PIFI), and other sensitive information is easier with Endpoint Protector 5. If you already tried the new version, we would appreciate your feedback with a comment below or by e-mail.
Download our free ebook on

Data Loss Prevention Best Practices
Helping IT Managers, IT Administrators and data security staff understand the concept and purpose of DLP and how to easily implement it.