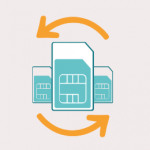 Future smartphones will come with a virtual SIM, meaning without a physical SIM card.
With the introduction of the iPad mini 2 in late 2014 Apple has already started to go in this direction. Since then, iPads in North America are still shipped with a real SIM card but it is not assigned to a carrier, allowing the user to select the carrier.
The next steps involve Apple and Samsung to remove the physical SIM card entirely and use only a virtual SIM (called also eSIM) that will allow them be the providers. Users will have a subscription with Apple, for example, for the cell / data service, instead of having directly with the carrier. Apple might even become a MVNO (meaning a mobile virtual network operator) relying on real carriers infrastructure. The process is similar to Apple Pay relying on Credit Card providers and their infrastructure – it will do the same with mobile carriers.
You might…
Read more