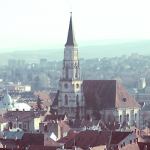 Welcome, everyone, to Endpoint Protector Blog. We are excited to launch this new platform where we can split hairs and talk about Data Loss Prevention, Data Security, Mobile Device Management and other topics we may find interesting along the way.
A few words about CoSoSys, vendor of Endpoint Protector
We are exploring the tangled world of data security since 2004, when threats weren't so various and sophisticated as they are nowadays. We are based in Cluj-Napoca, in the beautiful and mysterious Transylvania and our products reach businesses all over the world. 
Our mission is to enable businesses and end users around the world to take full advantage of the performance benefits of mobility, portability and communications solutions, without compromising security. To achieve this, we develop solutions that prevent data loss on the ever-increasing number of devices, endpoints…
Read more