Endpoint Protector at the Jamf Nation User Conference 2018
The Jamf Nation User Conference (JNUC), the largest gathering of Apple system administrators in the world, took place between 23 and 25 October at the Hyatt Regency in Minneapolis, US. Now in its 8th edition, JNUC focuses on innovating and improving the management of Apple devices for more efficient business processes and user empowerment.
As the world's most trusted Data Loss Prevention (DLP) solution for macOS, Endpoint Protector was, of course, also in attendance. Our team showcased the latest updates of our award-winning DLP products, conducted demos, met with prospective clients and showed visitors to JNUC that DLP for macOS is not only possible, but can be implemented at the same high standard as for any other operating system.
Our traditional LEGO giveaway caused quite a stir at the JNUC this year! With the incredible 3,599-piece LEGO® Technic Bugatti Chiron up for grabs, visitors were lining up to sign up for a chance to win it.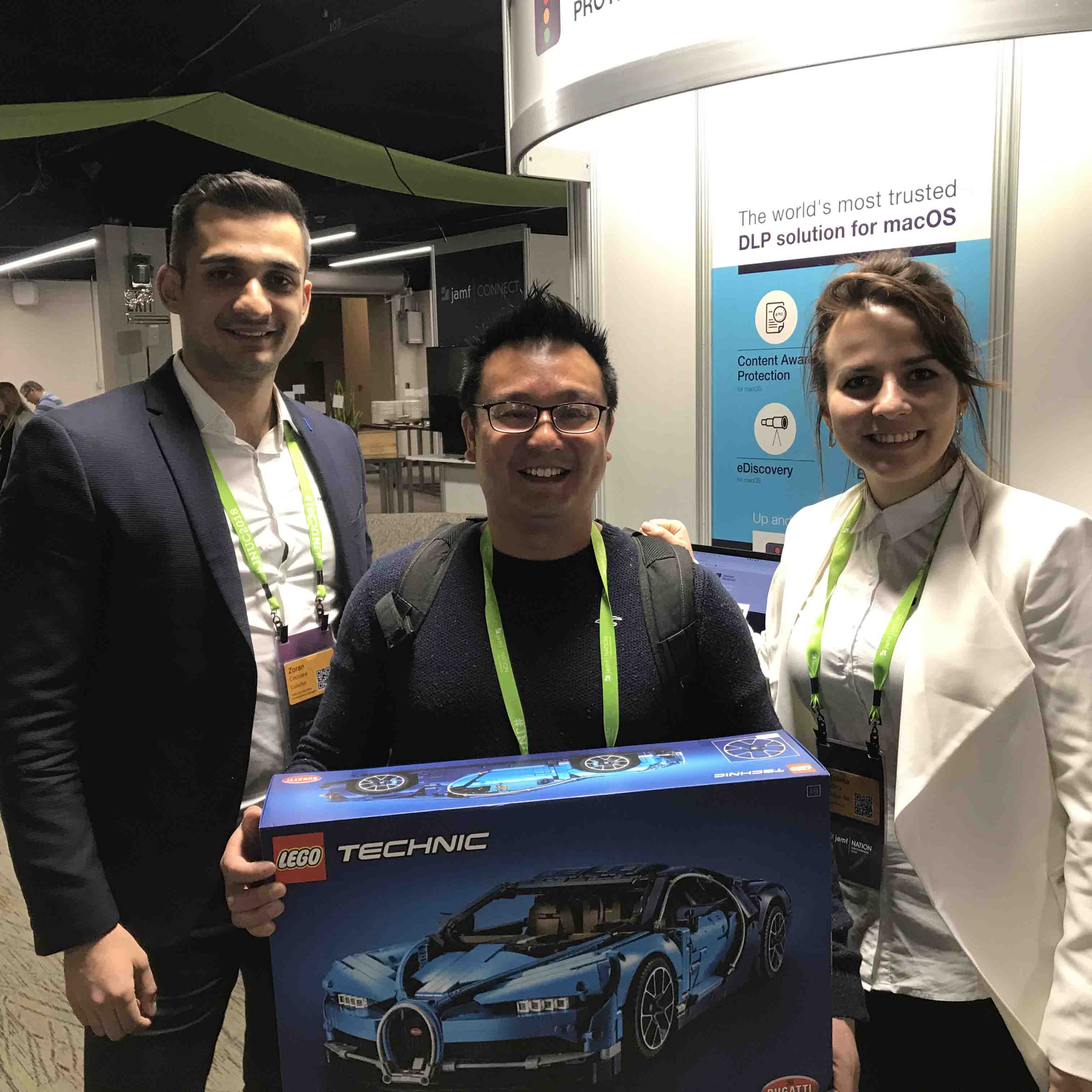 DLP committed to macOS excellence
Since its first release, Endpoint Protector was unlike any other DLP product on the market for a simple reason: it was determined to address the needs of all IT administrators, not only those running Windows environments. It anticipated the rising use of macOS in the enterprise and committed to providing the same quality DLP tools to Apple IT administrators that it offered to all its customers.
Because of this, Endpoint Protector has become the most trusted DLP solution for macOS around the world, as a product that not only boasts feature parity for macOS, Windows and Linux, but also delivers on that promise.
Offering zero-day support for macOS upgrades and easy updates that can be pushed without requiring rebooting, macOS is a constant priority for the Endpoint Protector development team. They constantly add new features and test existing ones for a smooth, kernel panic-free use of our products.
Eight Years of JNUC
Reaching its 8th edition this year, the Jamf Nation User Conference, brought together nearly 2,000 Apple IT administrators from around the globe for three days of community presentations, education sessions and expert product insights.
The event is organized annually by Jamf, the management standard for the Apple ecosystem, for its Jamf Nation community which numbers over 70,000 members, making it the largest Apple IT management community in the world. During this year's edition, Jamf announced its latest version of Jamf Pro and exciting updates from strategic partners Microsoft and SAP.
The Endpoint Protector team was delighted to once again be a part of JNUC and talk about all things DLP for macOS with Apple administrators from around the world. As we continue to bring the very best of DLP to macOS, we look forward to meeting the enthusiastic JNUC participants again next year!
Download our free ebook on

Data Loss Prevention Best Practices
Helping IT Managers, IT Administrators and data security staff understand the concept and purpose of DLP and how to easily implement it.