Endpoint Protector
Award-Winning Data Loss Prevention
Endpoint Protector is a full DLP and MDM solution that prevents users from storing sensitive data on their workstations and from taking critical data outside the company or bringing potential harmful files on storage devices inside the network. The Content-Aware Data Loss Prevention, eDiscovery, and Device Control modules are available for Windows, macOS, and Linux, while the complementary Mobile Device Management module is available for iOS and Android mobile devices as well as macOS computers.
Up and running in 30min
Unbeatable Value
Common Criteria EAL2 Certified
Our top customers include Fortune 500 companies, Universities, Governments, and more
CoSoSys Recognized for its
Endpoint Protector Solutions
in the February 2017
Gartner Magic Quadrant
for Enterprise Data Loss Prevention
Read more
Content Aware Protection
For Windows, macOS, and Linux
It offers detailed control over sensitive data leaving the computers and endpoints in the network. Through efficient content inspection, transfers of important company documents will be logged and reported. Based on the company policy, file transfers will be allowed or blocked.
eDiscovery
For Windows, macOS, and Linux
Endpoint Protector eDiscovery for data at rest scans sensitive data stored on employees' endpoints. It offers the possibility to setup scans based on specific file types, predefined or custom content, file name, Regular Expressions or HIPAA protected content. Based on the scan results, remediation actions can be taken like encrypting and deleting data for data breach protection.
Device Control
For Windows, macOS, and Linux
Having the possibility to control USB devices and peripheral ports activity for employees' computers from a simple web interface will simplify your life. Strong device use policies will ensure proactive protection for a safer work environment with removable storage devices.
Mobile Device Management
For Android, iOS, and macOS
It provides enhanced control over the use of the Android and iOS mobile device fleet as well as macOS computers. Enforce strong security policies and access detailed tracking and asset management of all smartphones or tablets. Increase productivity by monitoring and pushing applications, network settings and more.
Available as Virtual or Hardware Appliance
Endpoint Protector can be integrated as a Virtual Appliance or Hardware Appliance allowing a fast setup and deployment. Read more
Endpoint Protector Highlights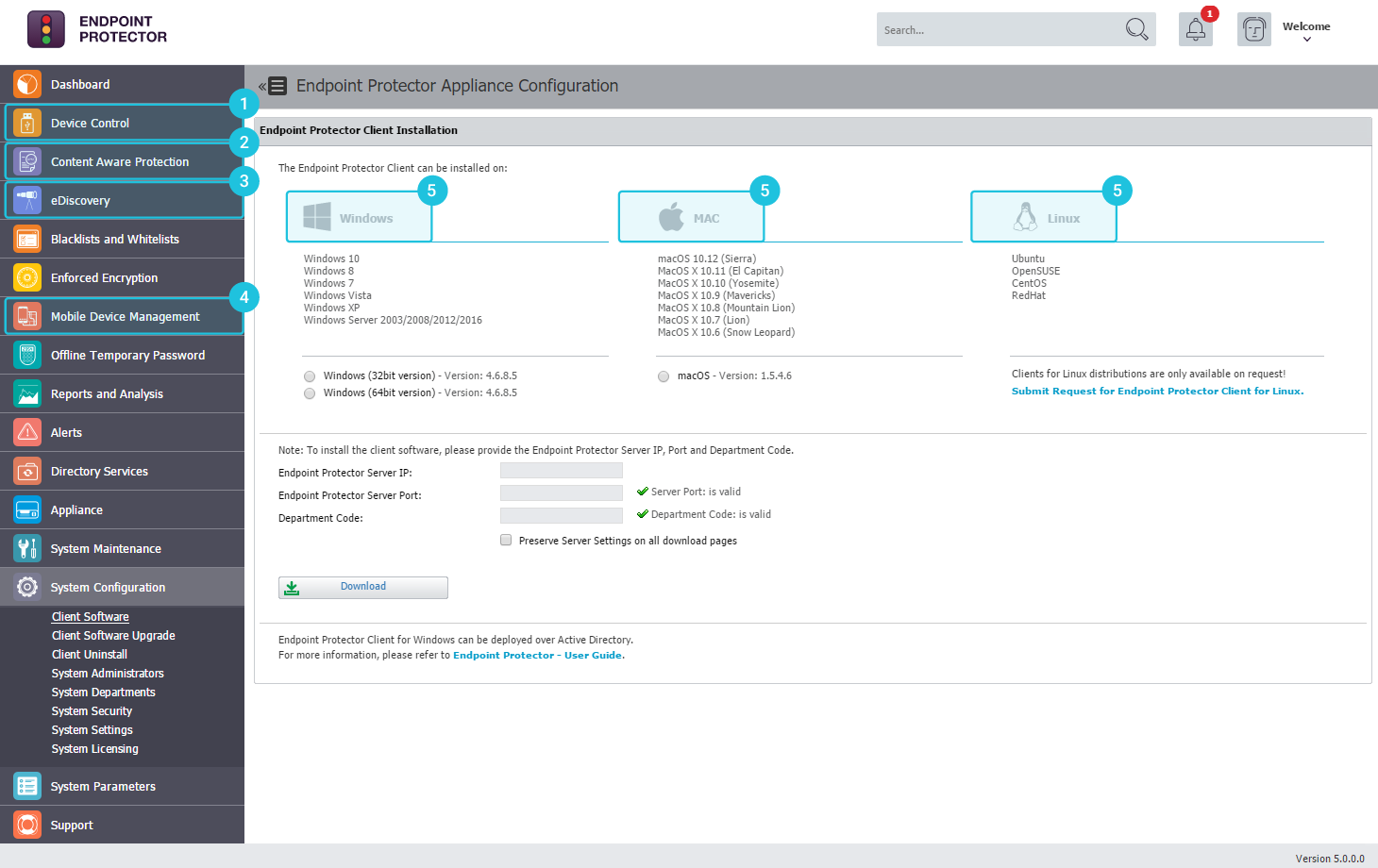 Seamless control of portable storage devices
Control and set rights for removable devices and ports in the Endpoint Management section and establish policies for users, computers and groups.
Monitor and block data transfers
Stop data leakage through the most common applications such as emails, browsers, and other online applications through the Content Aware Protection tab.
Cross-platform eDiscovery
Create policies to inspect data residing on protected Windows, macOS and Linux computers. Discover sensitive data at rest and encrypt or delete it.
Extend data security to mobile devices
Within the same management console, set up security policies for corporate or employee-owned mobile devices.
Protection for Windows, macOS, and Linux
Endpoint Protector takes cross-platform DLP to the next level. Protect data against loss and theft on all company's endpoints.
How it works