Last month, our company had the privilege to attend three of the most important IT Security events worldwide: GITEX Tech Week in Dubai, IT-SA in Nuremberg, and Tech Trade Live in Dublin.
All three events were a major success, giving us the opportunity to feel the market and interact with both existing and new clients or partners, and to receive a lot of feedback and appreciation for our work. We want to thank our dedicated partners, emt Distribution, BiRoNet, and Reinnasance, who helped us take full advantage of these events.
This year's 36th GITEX Technology Week, in Dubai, was the main IT Security event with the biggest impact from all of the three events we attended last month. GITEX 2016 is the largest technology exchange and marketplace for the Middle East & Africa. The event gathered over 140,000 technology professionals, entrepreneurs, public sector officials, enterprise leaders, etc., and more than 4,000 exhibitors from regions such as the Middle East, South-East Asia, Africa, and Europe.
Because some of our company's values are to teach, learn, and make a difference, we continued to raise awareness on security issues by bringing our prize wheel to the event, which we also used it at InfoSec last year, where we managed to make a survey, discovering important security issues among organizations. You can read more about it in our past blog post "CoSoSys' research at Infosec Europe 2016 reveals USB devices still represent a big threat".
Besides offering cool prizes with our prize wheel, visitors were reminded in an entertaining way about some of the most common mistakes in data security, with fun messages like: "Bummer! You copied CCNs on the wrong Skype chat", "It's not your lucky day! You lost a critical USB stick.", "Good job! You keep vital data safe", "Congrats! You are an encryption lover.", and many other.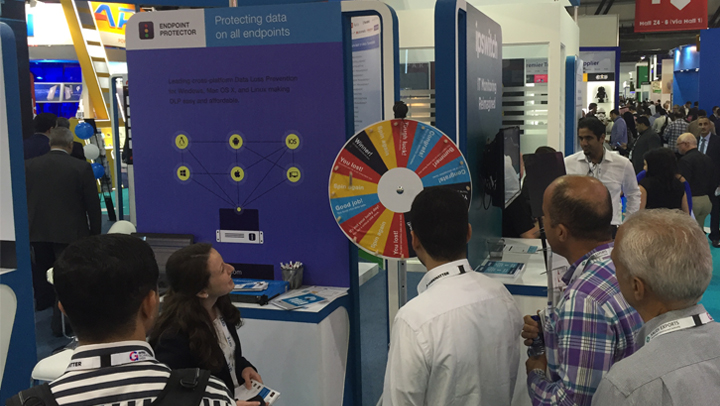 People who stopped by our stand had the chance to see live demos, product presentations such as Easylock Enforced Encryption and Cross-Platform Data Loss Prevention Solution, receive free Easylock licenses and other interesting giveaways.
Even tough, nowadays, most of the product appliances are virtual or cloud based, we wanted to give visitors the possibility to see the physical version of our Endpoint Protector appliance, offering them a real feel of the product. The appliance surprisingly attracted many visitors, maybe because most of the times, it's in people's nature to trust more a product after they personally see it or test it.
Besides the curious public, visitors who stopped by our stand were current clients, clients testing our products, existing resellers or interested in collaborating with us and our partner emt Distribution.
Commenting on the participation at GITEX Technology Week 2016, Cristina Pop, Director of Sales and Business Development at CoSoSys, said:
We are glad we decided to attend this year's GITEX edition. It was a great event that brought together a large variety of tech professionals and visitors from more than 140 countries. Our product, Endpoint Protector as a hardware Appliance, had a very big success at our booth among our visitors, mainly because of its advantages: it's low cost and time saving – it doesn't require an installation, everything comes preinstalled. We had the chance to meet existing or interested clients and resellers from the region and had efficient discussions, exchanged ideas and got positive feedbacks. We are looking forward to the next GITEX edition.
IT-SA 2016 exhibition in Nuremberg, Europe's biggest trade fair on IT security, achieved high results this year by welcoming 490 exhibitors from 19 countries and over 10,000 trade visitors from Germany and other countries. We attended IT-SA for the 3rd time, together with our main partner BiRoNet, remaining faithful to the event, mainly because of the good quality of attendees and exhibitors it provides every year. Here, our team made live demos and product presentations, both in English and German. The public appreciated that our presentations were hands on at our stand and could also be seen on the main big screen.
At IT-SA, we met with our resellers from the region, and many potential partners and customers. We were glad to see that many of our visitors left us positive impressions on our products. The main remarked interests at our booth were Device Control, Content Aware Protection, Mobile Device Management, and Enforced Encryption solutions. Along the years, we proudly noticed how the public in Germany has become more educated and more conscious of the data security importance.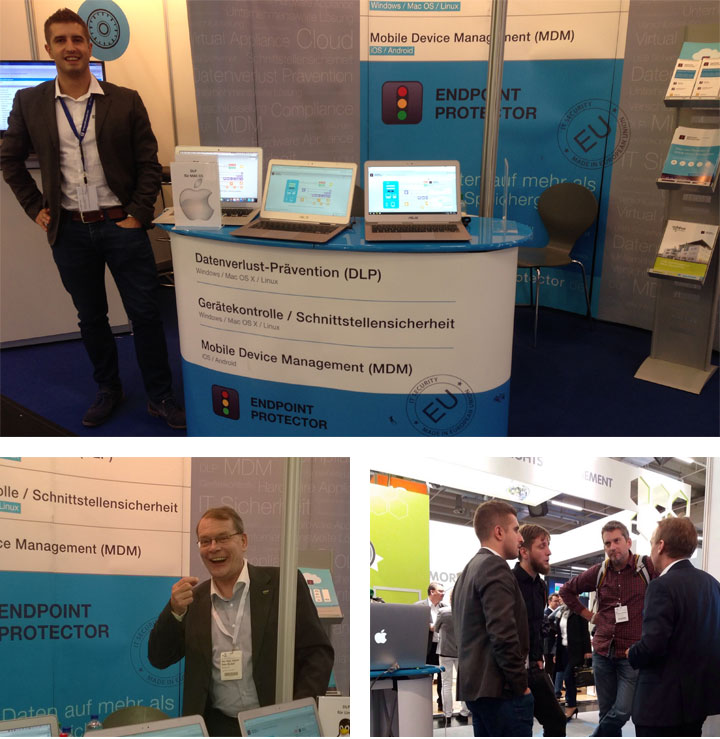 This year we added another major event on our IT Security events list: Tech Trade Live, in Dublin, the only independent focused event for channel partners, with 42 exhibitors from various countries.
Here, we joined our main distributor in the region, Renaissance, Ireland's premier IT security distributor. After one year of market research and analyzing our opportunities in the area, we decided to join the data security force. At the exhibition, a considerable number of local resellers presented a big interest in our DLP product, a fact that proved the high need of data security solutions on the market.
With positive feelings and good impressions from all three events, we encourage you to trustfully register at the next year's editions. We know we'll definitely do so.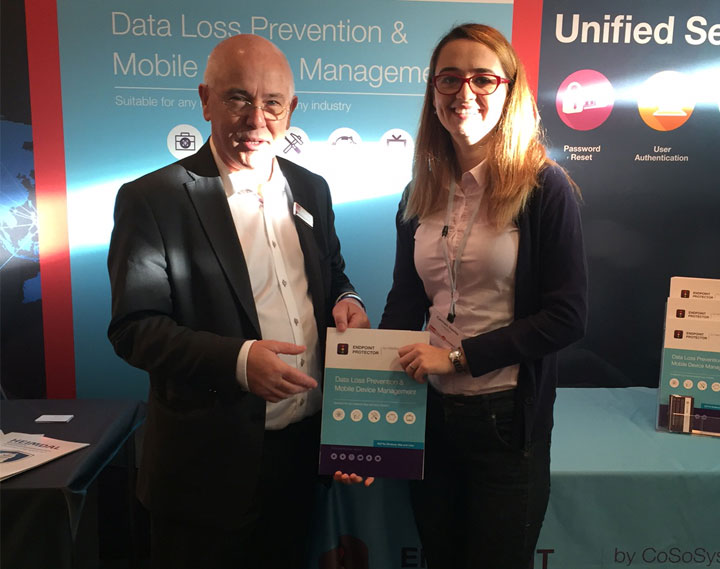 Download our free ebook on

Data Loss Prevention Best Practices
Helping IT Managers, IT Administrators and data security staff understand the concept and purpose of DLP and how to easily implement it.