Endpoint Protector at it-sa's 10 Year Anniversary Edition
it-sa, Europe's leading trade fair for IT security, took place last week between 9 and 11 October at the Exhibition Centre in Nuremberg. Celebrating its 10th anniversary this year, it-sa had an exceptional turnout with 696 exhibitors from 27 countries coming together to welcome a record-breaking 14,290 trade visitors from over 50 countries.
Among them, of course, was Endpoint Protector's very own German team that greeted guests to the expo to our booth in hall 10.0 for a discussion on Data Loss Prevention (DLP), compliance and the latest updates to our award-winning products.
Presenting the Next Generation DLP
Visitors were introduced to the exciting new features our latest release brought to Endpoint Protector. With contextual scanning and n-gram based text categorization as well as significant updates to EasyLock, Endpoint Protector 5.2 marks an evolution towards next generation DLP features that integrate the latest developments and detection methods in the field of data protection.
Our DLP experts were on hand to conduct live demos and face-to-face meetings and answer questions about both our products and Data Loss Prevention and how it can help companies prevent data leakage and theft as well as comply with data protection regulations that are in effect across Europe and the world.
It wasn't all business at our booth as another round of our famous LEGO giveaway offered visitors a chance to win the amazing 3,599-piece LEGO® Technic Bugatti Chiron.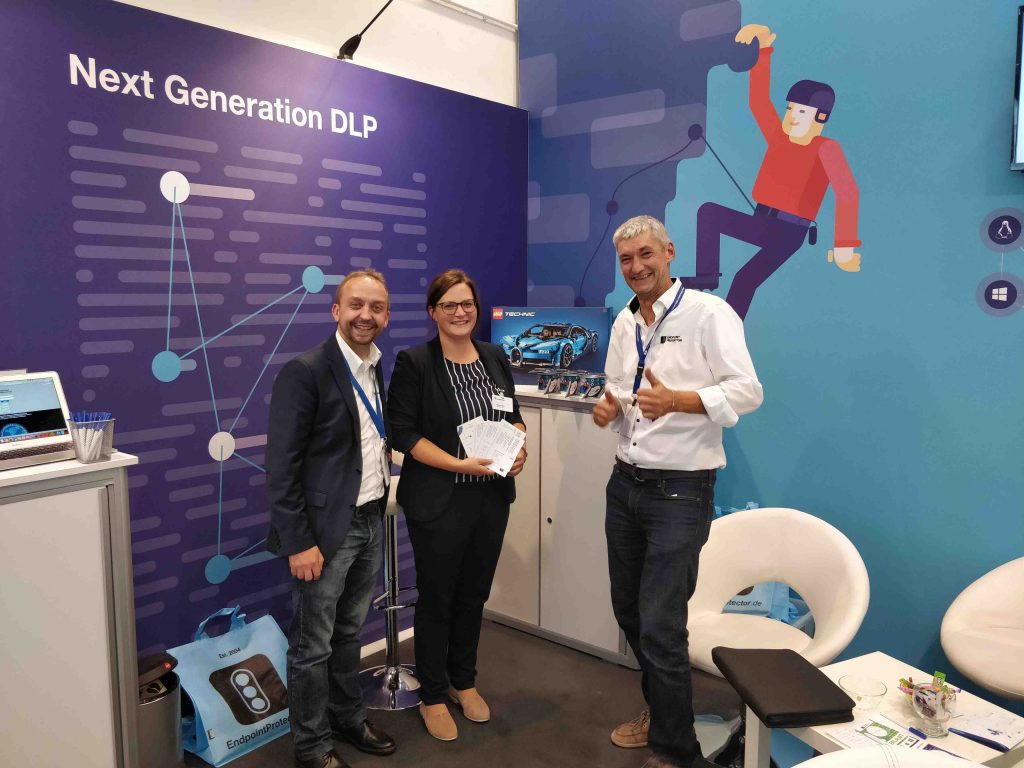 it-sa 2018 at a Glance
The 10th edition of Europe's largest expo for IT security, it-sa 2018 was marked not only by a record-breaking attendance, but also by the presence of many top-level decision makers from the fields of politics, administration and business. One of its highlights was the keynote address by world renowned Polish IT security expert Paula Januszkiewicz. Israel, the Netherlands and the Czech Republic showcased their countries' blossoming IT security industries in dedicated pavilions.
it-sa 2018 also brought exciting new additions to its established format. It marked the inaugural edition of the German IT Security Award from the Horst Görtz Foundation and the first installment of the start-up competition UP18@it-sa which was won by the Darmstadt-based IT-Seal.
Five open forums offered 350 contributions that included discussion rounds, individual lectures and live demonstrations. This year's congress also had an extensive program packed with events focusing on specific subjects and industry areas such as IT security in SMEs and the European Union's General Data Protection Regulation (GDPR).
it-sa has been on our yearly itinerary of IT security events since its first editions and we were happy to celebrate its 10-year milestone alongside IT security experts from Germany and beyond. Our participation has been a fruitful one as we met and spoke to customers both new and old and helped visitors gain a deeper understanding of DLP. We look forward to the next years of talking Data Loss Prevention at it-sa in Nuremberg!
Stay on top of the latest
Data security tips, trends and best practices