Endpoint Protector Becomes an Exhibitor at GITEX Technology Week 2018
GITEX Technology Week, the largest technology event in MENA and South-East Asia, was held this year between 14 and 18 October at the Dubai World Trade Centre. Its 38th edition opened under the headline "Experience Future Urbanism" and showcased the world's most progressive smart cities and the transformative technologies behind them.
More than 4500 exhibitors from over 100 countries were spread across 21 halls divided into sectors such as smart cities, internet of things, future tech and more. The Endpoint Protector team was naturally present as well, in the network and security-dedicated Sheikh Rashid Hall, for the first time attending GITEX Technology Week as an exhibitor!
Endpoint Protector's First Exhibitor Booth
Endpoint Protector is no stranger to GITEX Technology Week: our team has been a constant presence at our partner EMT's booth over the last three editions of the event.
In 2018, Endpoint Protector became an exhibitor in its own right, while still keeping our presence at our partner EMT's booth. We felt it was time Endpoint Protector stepped into the limelight and took its rightful place as a key Data Loss Prevention (DLP) exhibitor during GITEX Technology Week.
Our decision couldn't have come at a better time: GITEX Technology Week announced that its 2018 edition would feature a hall dedicated to all things cybersecurity and Endpoint Protector's booth was, of course, placed within it.
Our team of DLP experts were on hand to welcome guests to the event to our booth and to answer all their burning questions about data protection, compliance and best practices to avoid data leakage and theft. They presented the newest features of our award-winning DLP products and conducted live demos and one-on-one meetings with those looking for a more in-depth discussion of their company's data protection needs.
No Endpoint Protector booth is complete without our traditional LEGO giveaway! This year's GITEX visitors stood a chance to win the amazing 3,599-piece LEGO® Technic Bugatti Chiron. Ahmed Al-Hadidi from PepsiCo was our lucky winner.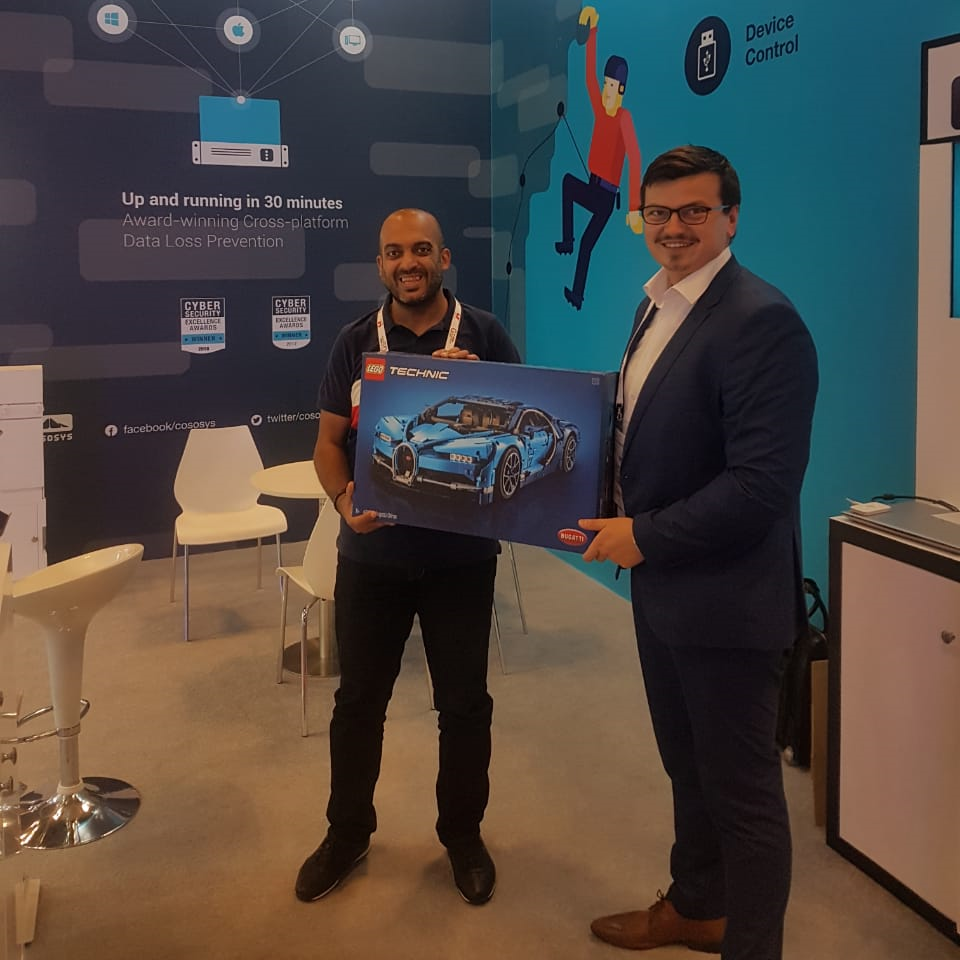 GITEX Technology Week Highlights
Over 150,000 visitors from 140+ countries were expected at GITEX Technology Week 2018 and the crowds did not disappoint. From global tech giants like Google, Amazon, Microsoft and Alibaba to the more than 700 innovators and tech entrepreneurs hosted by the GITEX Future Stars, technology's best and brightest were reunited for an intense five days of exhibitions, demonstrations and over 290 hours of keynotes and panel discussions.
Sir Timothy Berners-Lee, Professor of Computer Science at MIT and the University of Oxford and the so-called father of the internet, was one of the notable guests in attendance at GITEX Technology Week 2018 where he spoke about the need to rethink the internet and give back the control of personal data to users.
The thrilling technologies on display included a collaboration between Audi and Airbus that produced a flying car, mechanical arms from Japanese robotics company, Yaskawa, that could make both cocktails and dispense medicines and haptic gloves that could replicate surgical precision via a robotic arm and thus perform minor operations from a distance.
GITEX is one of the most impressive events in technology in the world and reunites the most cutting edge developments of the sector with the latest offerings from businesses great and small for a productive dialogue on the latest trends and advancements in the field. The Endpoint Protector team was happy to be in attendance as a first time exhibitor and we are already looking forward to next year's exciting edition of GITEX Technology Week.
Download our free ebook on

Data Loss Prevention Best Practices
Helping IT Managers, IT Administrators and data security staff understand the concept and purpose of DLP and how to easily implement it.