New beginnings are always exciting and bring a certain freshness and energy to start over, to reinvent ourselves and aim for higher achievements. For us, 2017 starts with great roadmaps and plans and with intensive preparations for the RSA Conference which we haven't missed in the last 3 years.
Every year, a unique theme related to information security has been chosen for RSA, since 1995.
This year's theme – Power of Opportunity – invites everyone to switch perspective from issue to opportunity, from problem to solution and encourages professional development, moving the industry forward and joining in a single community. "The RSA Conference opens the door and invites all inside to reimagine and reinvent what's accepted, what's expected and what's possible, "says Linda Grey, director and general manager of RSA Conference.
For 2017, organizers added four more Learning Labs and prepared RSAC Early Stage Expo, a new space in the Marriott Marquis, the new Sandbox location, where participants can meet with emerging startups and discover new solutions from these up and coming companies.
Some of the main topics that will be presented at this year's conference are Analytics, Intelligence & Response, Application Security & DevOps, Cloud Security & Virtualization, Cryptography, Human Element, Identity, Mobile & IoT Security, and others. You can find the full agenda here. Since it has been a real challenge in the last few years, insider threats are also discussed.
According to the Insider Threat Report, the number of organizations that feel vulnerable to insider threats, which cause the most of the data breaches, increased to 74 percent last year. The biggest insider threats to organizations are privileged users, such as managers with access to sensitive information, that can unintentionally lose important data. These insider threats can lead to highly costly damages to the company; 75 percent of organizations estimate insider breach remediation costs could reach $500,000. In order to prevent businesses from data breaches and protect them from insider threats, Data Loss Prevention solutions became more complexed over the past year. At the RSA Conference, participants will get the chance to discover the top DLP solutions and to interact with professionals from the IT security industry.
To make the best out of the expo area and the conference, prepare your trajectory, draw your agenda and make sure you include in your path our booth – N4337. You can see live demos for Endpoint Protector 4 – cross-platform Data Loss Prevention for Windows, macOS, and Linux and MDM solution for iOS and Android, and find out how can a DLP solution can be setup in less than 30 days. Additionally, you will learn about the top exit points for data, like USB devices, and how you can enforce USB encryption with our Device Control module together with EasyLock encryption software.

Getting back to the conference topics mentioned above, we selected a few sessions as recommendations.
Held by Bruce Schneier – CTO Resilient and Special Advisor to IBM Security, Resilient, an IBM Company. Bruce is a "security guru", as The Economist called him and if you are an IT security professional, you shouldn't miss his presentation. He will discuss smart regulations and how computers and the Internet affect the world today in a direct physical manner.
Moderated by J. Trevor Hughes – President & CEO, International Association of Privacy Professionals. Panelists: Geff Brown – Assistant General Counsel, Microsoft, Michelle Dennedy – Chief Privacy Officer, Cisco, and Keith Enright – Director, Global Privacy Legal, Google.
Join the privacy leaders from Google, Microsoft, and Cisco as they talk about how they adapt to each new development in the field of privacy. It is needless to say why this track shouldn't be missed.
Held by Mark Crowley – Assistant Professor, University of Waterloo
The speaker will explore his recent research in machine learning to build intelligent models of user behavior over encrypted channels to discover anomalous network traffic in near real time. He will introduce new directions for implicit user authentication. Machine learning has started to make a lot of difference in security, so it will be interesting to find out the results of Mark's research.
Held by Chris Zoladz – Founder, Navigate LLC
This presentation will help companies from the USA understand their security and privacy compliance obligations and what steps they must take to prepare for GDPR. It will demonstrate that this regulation is not important only for European companies.
The RSA Conference – Power of Opportunity is itself an opportunity, promising engaging sessions and being the host of a diverse range of data security vendors. If you haven't registered yet, feel free to use our code below for an Expo Pass.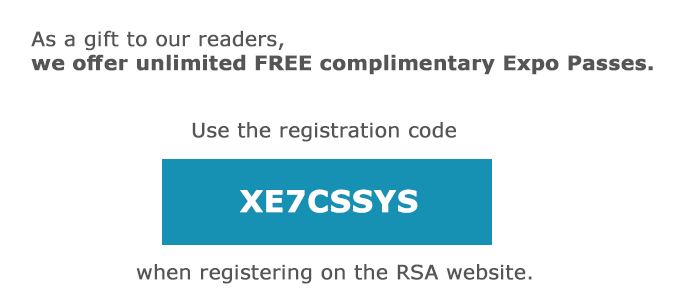 For more details please visit our event page.
Looking forward to meeting you there!
Download our free ebook on

Data Loss Prevention Best Practices
Helping IT Managers, IT Administrators and data security staff understand the concept and purpose of DLP and how to easily implement it.