Every year, some of the most influential companies and professionals gather for 5 days at the flagship information security event – RSA Conference USA held in San Francisco. Innovation is at its best at this event, always bringing fresh and relevant topics.
For us, it is the second year we attend as exhibitors and the experience from last year left us excited for the 2016 edition. More than 600 speakers will address key issues regarding information security, like insider threats, the dark web and cyber espionage, IoT security and others. You can find the full agenda here. If the sessions or exhibitors did not convince you to attend this year's RSA, here are more reasons.
Data Loss Prevention (DLP) is a hot topic so we are happy to welcome you at our booth #N4328 in the north area of the expo with live demos and great giveaways.
Additionally, we will participate as members of the Trusted Computing Group at the Demo Showcase they are organizing, with one of our favorite subjects "Data Loss Prevention in mixed environments: Windows, Mac, and Linux". We specifically chose this topic because Mac OS X and Linux saw a notable increase in market share in 2015, with industry experts predicting continued growth in the coming years. Windows is still dominating the enterprise networks, but Mac OS X and Linux have become increasingly common in companies' workstations, requiring solutions that ensure they are just as secure as the rest. Ignoring any of the 3 platforms creates a gap in the data security strategy, making the implementation on just two or one of them obsolete.
You will find our colleague, Zoran Cocoara, Presales Engineer and Business Development wizard in the TCG demos' location, Moscone West, Room 2002/2006 between 8:30 AM – 12:30 PM on 29th of February. The TCG session is open to all registrants, including those with Expo passes, of the RSA Conference.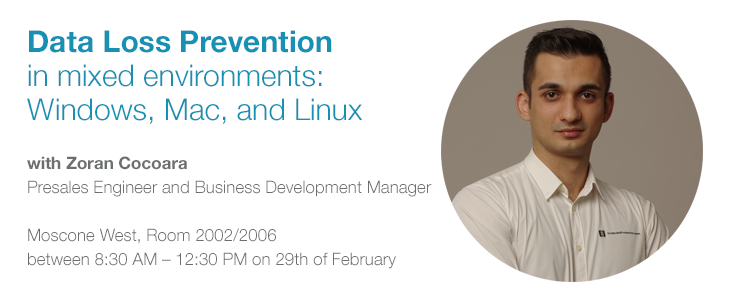 For a change of scenery, we will also be at Info Security's Global Excellence Awards ceremony as finalists in Database Security, Data Leakage-Protection/ Extrusion Prevention category with Endpoint Protector 4. In 2015 and 2014 we were the Gold winners in the DLP category, respectively SaaS/Cloud solutions category, so we're looking forward to this year's ceremony to find out the results.
Until we meet again in San Francisco, be sure to stay on top of our latest updates by following us on Twitter, Facebook, and LinkedIn.
Download our free ebook on

Data Loss Prevention Best Practices
Helping IT Managers, IT Administrators and data security staff understand the concept and purpose of DLP and how to easily implement it.