The biggest conference for Apple administrators, the Jamf Nation User Conference (JNUC) 2020 took place last week, between September 29 – October 1, 2020. Relaunched as a complimentary virtual event over the original dates due to the coronavirus pandemic, the JNUC 2020 aimed to create a unique online experience. Just as in previous years, the Endpoint Protector team attended the event showcasing the new features of our advanced Data Loss Prevention (DLP) solution.
The Jamf Nation User Conference has been attracting Apple administrators from all around the world since 2009. Although this year's edition was different due to the pandemic, it remained an essential platform for exchanging knowledge and participating in lectures conducted by experts from around the world. The conference included online product presentations, technical sessions, and discussions in the expert community of administrators.
Endpoint Protector had a virtual booth on the JNUC online platform, providing visitors the possibility to chat with data security experts, learn more about compliance, insider threats, or protecting sensitive data such as customer information or intellectual property more efficiently. We've also offered expert demos as well as interesting facts and tips about data protection for macOS and data loss prevention best practices through our whitepapers, accessible from the platform. We've also had our traditional giveaway and our fortunate winner received a spectacular Lego set.
Being among the best and most trusted DLP solutions for macOS users on the market, Endpoint Protector has shown its commitment to macOS users over the years. We keep offering zero-day support for new macOS versions, thus companies can confidently allow employees to deploy the newly released macOS versions. The latest Endpoint Protector client comes with a kextless agent built on Apple's new Endpoint Security Framework.
Despite being a virtual event, JNUC 2020 had over 17,000 registrants and more than 100 sessions across all industries and experience levels. Over the three days, attendees could hear and share about new workflows and best practices of Apple as well as ensure they have the skills and tools to keep users, devices, and networks connected and protected. The Jamf Nation User Conference 2021 will be held between October 19-21 in Orlando, Florida.
Many cybersecurity events went online this year and the Endpoint Protector team continues its virtual international journey by currently attending it-sa 365 and getting ready for the Cyber Expo Ireland 2020, which will take place on November 24.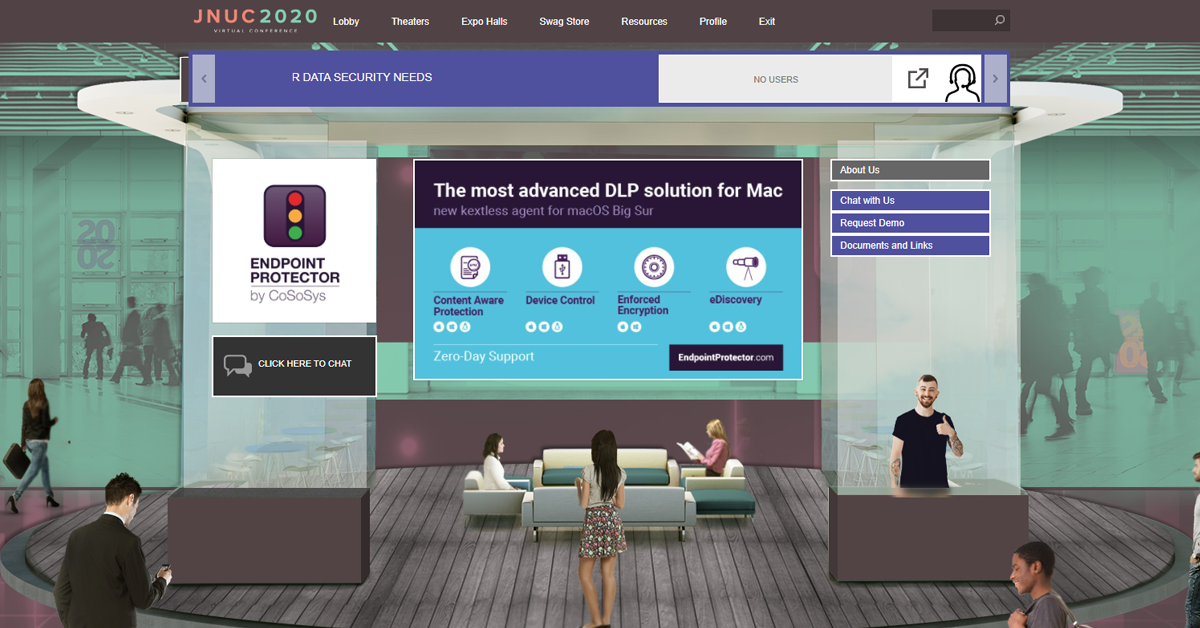 Download our free ebook on

Data Loss Prevention Best Practices
Helping IT Managers, IT Administrators and data security staff understand the concept and purpose of DLP and how to easily implement it.