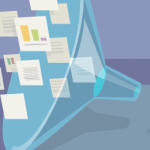 There are several documents like white papers, Data Loss Prevention Best Practices and deployment guides out there. Although they provide valuable information on how to approach, select and implement a DLP solution, they are mainly useful for medium and large companies. The reason for this is sort of simple: usually, it is said that a company has to reach a certain maturity before it starts to look at data security. So what about companies that are just getting started? Do they need DLP?
In today's business environment where the biggest accommodation provider owns no real estate and the biggest taxi company owns no vehicles, ideas and data are certainly the most valuable assets.
What's the starting point regarding data security?
Before a company is even born, there is one (or a few) people that have a good idea and want to make it a reality. As individuals, we are all exposed to the latest…
Read more