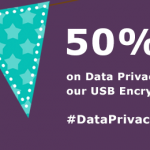 As we're getting ready to circle the 28th of January on the calendar, it's time to take a second and wish everybody Happy Data Privacy Day! If you're from a European country, then we meant Happy Data Protection Day!
What is Data Privacy Day?
Data Privacy Day is an international holiday created in 2007 that takes place every 28th of January. Initiated by the Council of Europe, the Data Privacy & Protection Day it is recognized by 47 European states, USA and Canada and its purpose is to raise awareness and promote privacy and data protection best practices. With the ever increasing data breaches occurring worldwide and numerous privacy and data security scandals, multiple global organizations have embraced Data Privacy Day.
Why should I care?
It's not just about corporate data, leaked surveillance documents, celebrity naked pictures, personal bank details and social media…
Read more