The first edition of the Cybersecurity Excellence Awards had quite an impact, creating a lot of buzz among vendors and the Information Security Community on LinkedIn.  The competition was tight, with over 430 entries and many vendors competing in the same category. Winners were chosen based on votes but also comments made by voters on the nomination page. Votes were cast by the 300,000-member Information Security Community on LinkedIn, which recognizes the world's best cybersecurity products, organizations and individuals and, by industry leaders, partners, customers and other stakeholders.
We are thrilled that Endpoint Protector 4 was voted for best Data Leakage Prevention (DLP) product of 2016. This adds up to a nice collection of awards that we won over the years, giving us a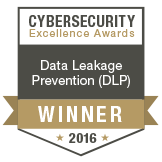 great sense of satisfaction and motivation to constantly meet our objectives and bring innovation in the Information Security industry.
Endpoint Protector 4 Data Loss Prevention (DLP) for Windows, Mac OS X and Linux addresses top business security concerns related to data security, including controlling the use of portable storage devices, and filtering data transfers through the most common exit channels. The refined cross-platform Enforced Encryption module, the most recent update for the product, allows centralized control over USB encryption and automatically deployment of EasyLock, encryption software, on USB storage devices.
Our thankful thoughts go to all voters and to our hard-working Endpoint Protector team. Congrats to the other finalists and winners!
Download our free ebook on

Data Loss Prevention Best Practices
Helping IT Managers, IT Administrators and data security staff understand the concept and purpose of DLP and how to easily implement it.