Endpoint Protector

The best alternative to Kaspersky's Endpoint Security Device Control module
Highly Rated in the latest Enterprise
DLP Gartner Magic Quadrant ★★★★★ ★★★★★
Award-winning Device Control
Device Control is offered as part of Kaspersky's Endpoint Security product. If you're looking for a dedicated Device Control solution with precise and granular controls, then Endpoint Protector delivers award-winning coverage across Windows, macOS, and Linux.
Cross-platform, lightweight agent
Remotely monitor USBs and peripheral ports from a simple web-based interface with no performance impact on the protected computers. Set policies with ease for Windows, macOS and Linux.
Precise and granular control
An award-winning solution for organizations looking for an alternative to Kaspersky's Device Control features.
Remote and temporary access
Grant USB access remotely, even when computers are offline, while having a complete list of log reports once back in the network.
Gain full control of USB devices and peripheral ports
Endpoint Protector's Device Control module allows full control of the USB ports and storage devices connected to employee endpoints. This way, it prevents accidental or intentional data loss and data leaks, while also protecting the endpoints against the spread of USB malware, BadUSB attacks or viruses.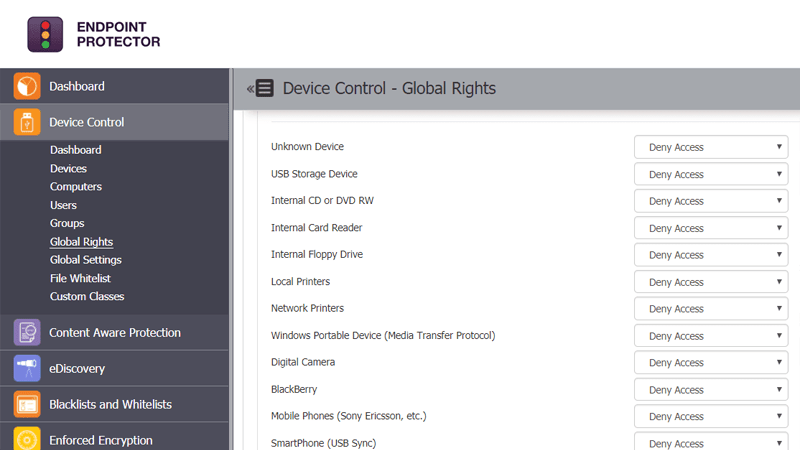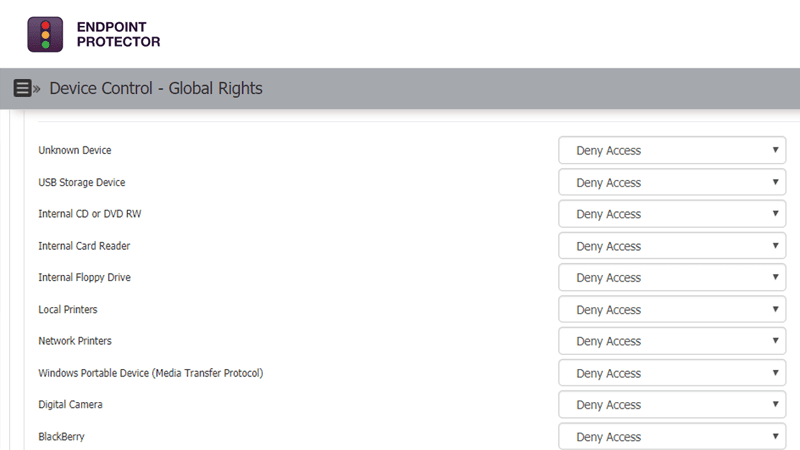 How it works
Device Control module is the first layer of security provided by Endpoint Protector. By defining granular access rights for USB and peripheral ports, device security is enforced while productivity is maintained. As a cross-platform solution, it protects the entire network, regardless of if the computers are running on Windows, Mac OS X, or Linux.
Set granular policies and monitor all USB ports and devices on all endpoints
Uniquely identify all USB conected devices
Block unauthorized device use or enforce data encryption remotely
Get reports and alerts regarding USB activity on all endpoints
Controlled device types
The Device Control module allows easy management for the majority of known USB device types, for enhanced data protection in various work environments.
USB Storage Devices (USB Flash Drives, Sticks, Pen drives, etc.)
External HDDs (incl. sATA HDDs)
CD/DVD-Players and Burners (internal and external)
iPhones, iPads and iPods
Smartphones and Tablets (incl. Android devices, Blackberry and PDAs)
Digital Cameras
MP3 Player and other Media Player Devices
Card Readers (internal and external)
Memory Cards (SD, MMC, CF, Smartcard, etc.)
Printers
Floppy Drives
Webcams
WiFi Network Cards
FireWire Devices
Biometric Devices
Bluetooth Devices
ZIP Drives
ExpressCard SSD
Wireless USB
Serial Port
Teensy Board
PCMCIA Storage Devices
Thunderbolt
Network Share
Thin Client Storage (RDP Storage)
Additional Keyboards
USB Modems
Infrared Dongle
Frequently Asked Questions
What is Device Control from Kaspersky?
Device Control is offered within Kaspersky's Endpoint Security product. It allows an organization to control the USB and other peripheral devices being connected to employee endpoints.
When should I choose Endpoint Protector over Kaspersky?
Rather than a feature contained within a wider product, Endpoint Protector offers a dedicated solution with deeper controls.
Choose Endpoint Protector if you need a dedicated solution and care about:
Zero-day support for the latest macOS releases
Ability to enforce encryption to files transferred to USB drives
A reliable, lightweight agent that doesn't impact employee productivity
Local Customer Success and Support teams to help you configure your policies
Granular control across multiple operating systems
When should I choose Kaspersky?
If you're looking for a broader set of endpoint security controls, including exploit prevention and ransomware protection, then Kaspersky might be the best solution for you.
Has Germany's Federal Office for Information Security banned Kaspersky products?
As of 15th March 2022, Germany's Federal Office for Information Security (Das Bundesamt für Sicherheit in der Informationstechnik) (BSI), recommends replacing applications from Kaspersky with alternative products. For those requiring Device Control, Endpoint Protector, offers an award-winning alternative with local support across Europe and North America.