CoSoSys Wins Most Innovative Data Loss Prevention in 8th Annual InfoSec Awards at #RSAC 2020
Date: 24-Feb-2020
Language: English
SAN FRANCISCO, FEBRUARY 24, 2020 – CoSoSys is proud to announce we have won the following award from Cyber Defense Magazine (CDM), the industry's leading electronic information security magazine:
MOST INNOVATIVE DATA LOSS PREVENTION
"We're thrilled to receive one of the most prestigious cybersecurity awards in the world from Cyber Defense Magazine. We knew the competition would be tough and fierce. We couldn't be more pleased to be recognized as Infosec Innovators and leaders in the industry," said Roman Foeckl, CoSoSys CEO and Founder.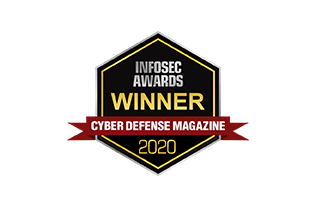 "CoSoSys embodies three major features the judges look for to become winners: understanding tomorrow's threats, today, providing a cost-effective solution and innovating in unexpected ways that can help stop the next breach," said Gary S. Miliefsky, Publisher of Cyber Defense Magazine.
We're thrilled to be a member of this group of winners, located here: https://cyberdefenseawards.com
Endpoint Protector is an advanced all-in-one DLP solution for Windows, macOS, and Linux computers. The solution puts an end to unintentional data leaks, protects from malicious data theft, offers seamless control of portable storage devices, and helps to reach compliance with data protection regulations such as GDPR, HIPAA, CCPA, or PCI DSS. Endpoint Protector provides a short learning curve and flexible modules that can be mixed and matched to a customer's needs. The solution has functionalities such as Device Control, Content and Context Aware Protection, Enforced Encryption, and eDiscovery. The solution is consistently ranked as the top solution for multi-OS enterprise organizations.
About CoSoSys
A regular presence at the RSA Conference since 2014, CoSoSys' mission is to enable businesses around the world to take full advantage of the performance benefits of mobility, portability, and communications solutions, without compromising security.
CoSoSys' flagship product, Endpoint Protector, was recognized in the 2017 Gartner Magic Quadrant for Enterprise Data Loss Prevention and in the Radicati Data Loss Prevention Market Quadrant in 2018 and 2017. It is also included in the Forrester Now Tech: Data Loss Prevention report in Q1 2019. Endpoint Protector is certified with Common Criteria EAL2.
Our company won the Cybersecurity Excellence Awards in the DLP category from 2016 to 2020, the 15th Annual 2019 Info Security PG's Global Excellence Awards, Softshell Vendor Awards 2019 and InfoSec Awards 2019.
CoSoSys distributes its products globally through partners, resellers and directly to users through its online portal. For more information, visit www.endpointprotector.com.
Press Contact:
Codina Sabau
Phone: +40 264 593 110 Ext. 116
E-mail: codina.sabau@cososys.com