Endpoint Protector Knowledge Base
Below you can explore FAQs related to Endpoint Protector and find the information you need. For any other additional questions, suggestions, and improvements please contact the support team.
Why do I get the Legacy System Extension notification on macOS 10.15.4+ (Catalina Beta versions)?
Due to changes introduced by Apple in macOS versions higher than 10.15.4 (Catalina Beta versions), the below message will be encountered. Besides clicking OK, no further action is needed.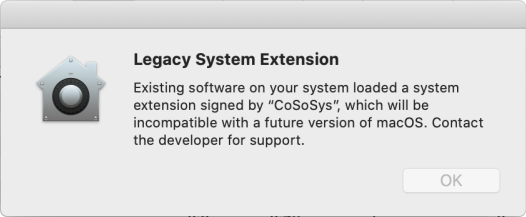 This is due to the fact that future versions of macOS will no longer make use of Kernel Extensions (KEXT). More information can be found
here
.
With a proven track record of 0-day support for macOS, Endpoint Protector will be ready to comply with Apple's future requirements.
Our DLP Offers Zero-Day Support
Upgrade to the latest macOS version and get instant support for new features, without impacting critical workflows.