Is your company's
sensitive data at risk?
Don't wait to find out. Secure your data with Endpoint Protector Data Loss Prevention (DLP) Software.
Industry-leading DLP for personal information and intellectual property.
Deploy remotely to ensure security and compliance for employees working from home.
Recognized as a premier solution in Gartner's latest Enterprise DLP Magic Quadrant
Discover, Monitor, and Protect Your Sensitive Data
Device Control
USB & Peripheral port control
Define granular access rights for removable devices and peripheral ports and establish policies for users, computers and groups, maintaining productivity while enforcing device security.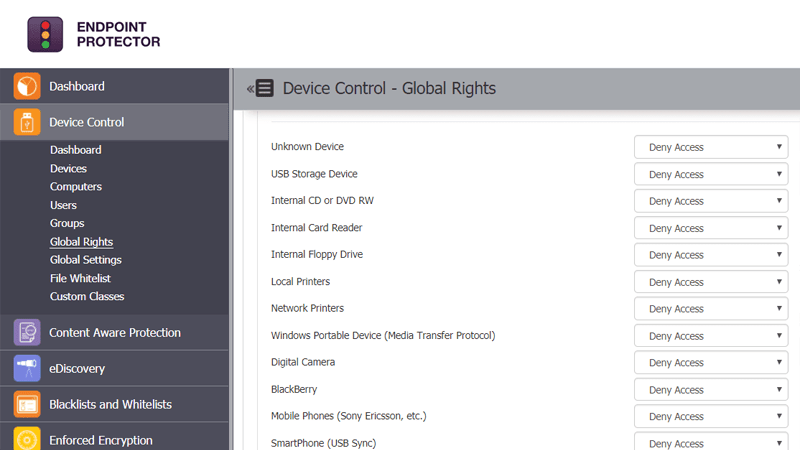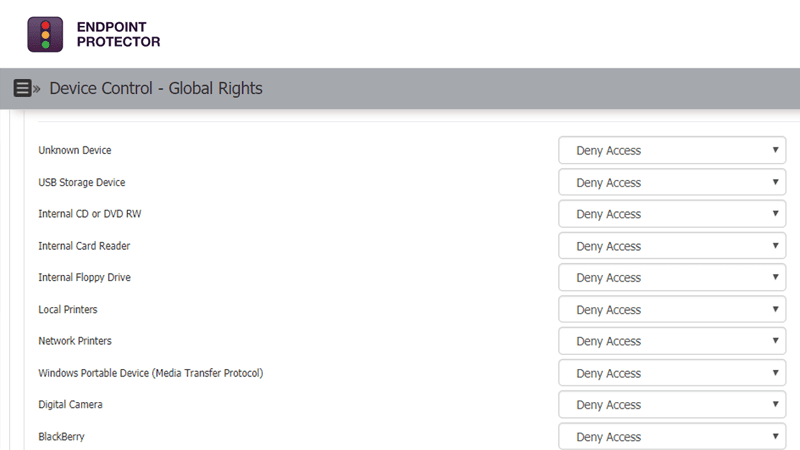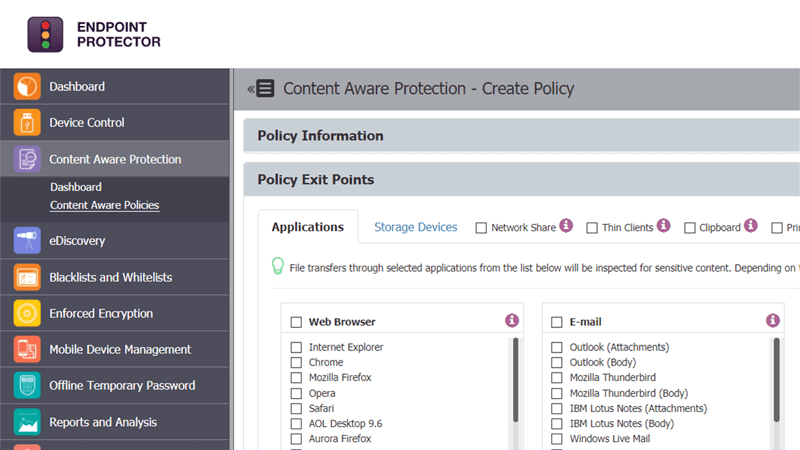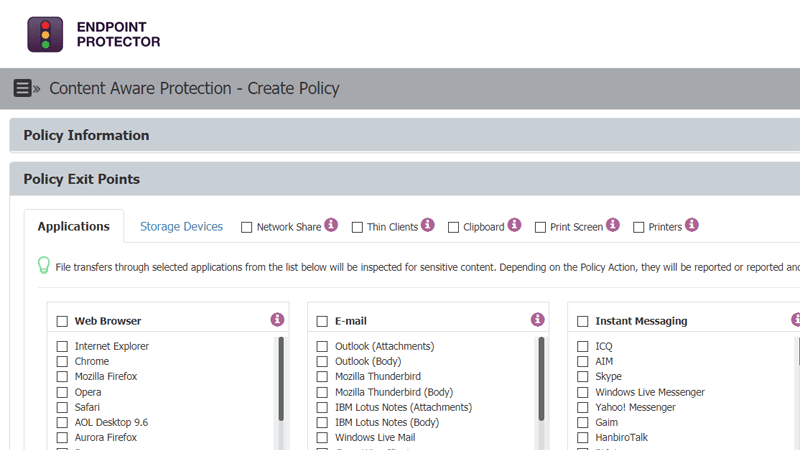 Content-Aware Protection
Scanning data in motion
Prevent data leakage through all possible exit points, from clipboard, screen captures, USB devices, to applications including Microsoft Outlook, Skype or Dropbox.
eDiscovery
Scanning data at rest
Prevent data breaches by scanning and identifying sensitive data at the endpoint level on Windows, macOS, and Linux computers. Ensure compliance with regulations like HIPAA, PCI DSS and others.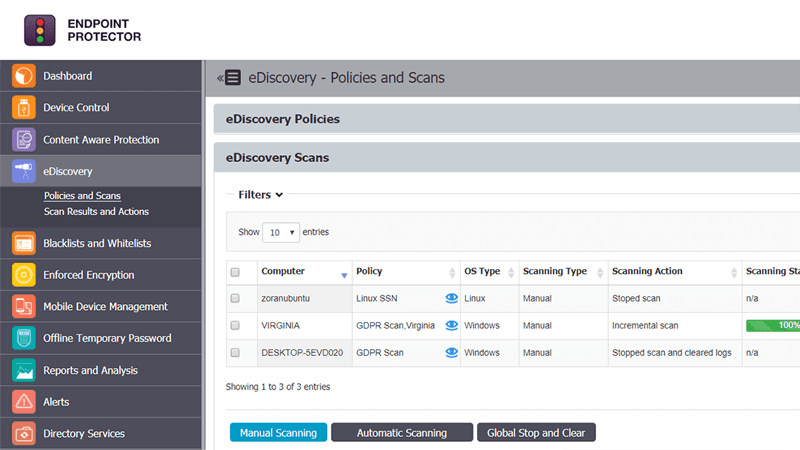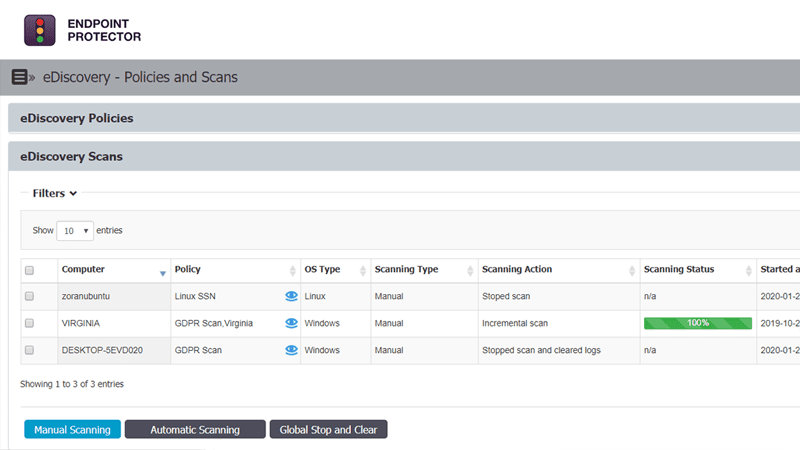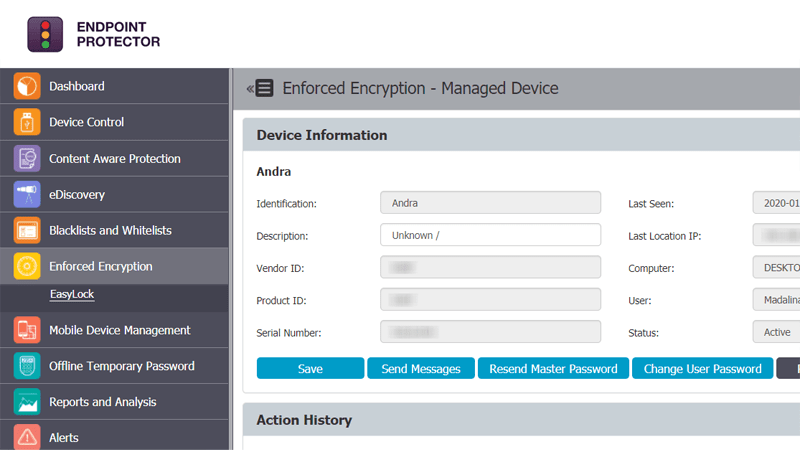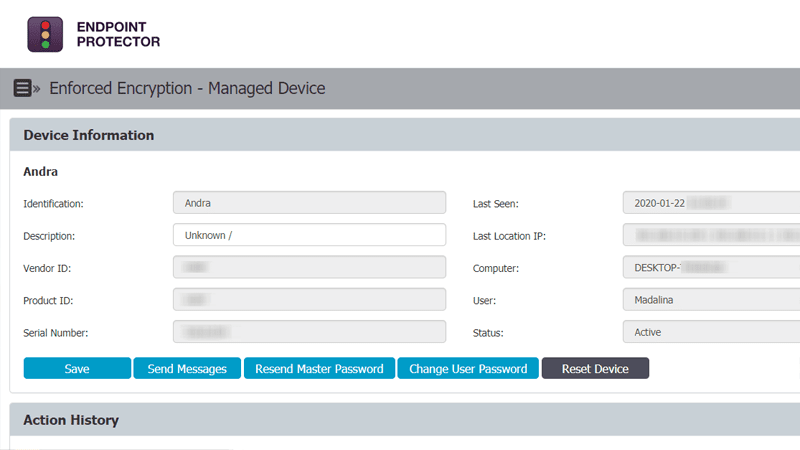 Enforced Encryption
Automatic USB encryption
Encrypt, manage and secure USB storage devices by safeguarding data in transit. Password-based, easy to use and very efficient.
Join thousands of successful customers
"We found Endpoint Protector better than other DLP Solutions, especially on File Tracing - Content Aware Protection features, as well as end-users' Activity Details and Control"

"Endpoint Protector adds a strong layer of data security. In addition, CoSoSys customer service is excellent."
"Our company was set up within hours and the support and service offered by CoSoSys are excellent."
Stop data loss in its tracks and protect your organization from insider threats, accidental data loss, and data compliance breaches.
Avoid the operational disruption, financial loss, and reputational damage that results from data loss at the endpoint
Intellectual Property Protection
Endpoint Protector uses advanced technologies such as N-gram-based text categorization to accurately discover intellectual property, such as source code, within hundreds of file formats.
Personal Identifiable Information (PII) Protection
Safeguard customer and employee PII and PHI, including Social Security Numbers, bank account numbers, credit card numbers, and more.
Insider Threat Protection
Prevent data loss from malicious, negligent, and compromised users. Monitor endpoint activity related to device use and file transfers and stop data exfiltration even when users are offline.
Compliance and Regulations
Meet the requirements of data protection regulations such as HIPAA, PCI-DSS, GDPR, SOX, CCPA and more, avoiding fines and other damages imposed by regulatory bodies.
Need help? Get in touch with a data protection expert:
Continuous protection for remote workers
Extend your control beyond the corporate network and achieve continuous protection wherever your employees are working, even when they're offline, without impacting productivity.
Outside Network and Outside Hours policies
Fast, remote client deployment
Protects sensitive data even when working offline
Multiple deployment options
Take back control of your endpoints
Avoid costly, time-consuming deployments and quickly close the gaps in protection.
Frictionless user experience
Endpoint Protector's lightweight agent is proven not to impact endpoint performance, and our granular controls and smart remediation features minimize false positives to maintain uninterrupted workflows.
Quick start with predefined policies
Predefined policies are available for quick, hassle-free deployments. More granular settings can also be easily applied to meet individual requirements, create device whitelists and blacklists, and define policies per user, computer, or group.
Highly rated by admins
Endpoint Protector is rated by security professionals for its low-cost of deployment, ease of administration and quality of support throughout the deployment process, and beyond.
Centralized administration
Manage policies across macOS, Windows, and Linux and gain full control of endpoints and policies through a single dashboard. Get real-time alerts and reports, and create logs* related to events, file transfers, devices, or user activity for faster and more accurate data security incident prevention or mitigation.
* Endpoint Protector supports SIEM integration based on logs for custom reports, dashboards or even user behaviour analysis.
Full control over sensitive data.
Any time, anywhere.
Real-time alerting & reporting
Create configurable alerts or reports based on recent or ongoing events in order to stop data loss or theft before it happens.
Get detailed info and logs related to events, file transfers, devices used or unusual user activity required for faster and more accurate data security incident mitigation.
Create custom reports, dashboards or even user behaviour analysis based on logs by using the SIEM integration capability provided by Endpoint Protector.
Here's what our customers say about Endpoint Protector
"We have tried many security products, but Endpoint Protector is the best of the breed of data loss prevention (DLP) that easily integrates into Apple, Mac and mixed multi-OS environments."
"We found Endpoint Protector better than other DLP Solutions, especially on File Tracing - Content Aware Protection features, as well as end-users' Activity Details and Control"

"Endpoint Protector adds a strong layer of data security. In addition, CoSoSys customer service is excellent."
"Our company was set up within hours and the support and service offered by CoSoSys are excellent."