Compliance
Management & Auditing
With compliance regulations, there's always one more box to check. Let us handle the data security requirements.
Effectively discover, monitor and control sensitive data
We help with GDPR, HIPAA, PCI, CCPA, NIST and more
#1 Cross-Platform coverage; including macOS, Windows, and Linux


How we help with your compliance requirements
Audit essentials
Get valuable insights about which users are transferring sensitive data, like Personally Identifiable Information, Credit Card Numbers, Social Security Numbers, and other confidential information.
Data movement restrictions
Once the audit is finalized, you have to strengthen security and address the vulnerabilities. Endpoint Protector monitoring policies can be converted into restrictive policies, blocking unwanted file transfers, unauthorized data copied/pasted, screen captures, etc.
Safeguard data on portable devices
Authorize data to be moved to encrypted storage devices only and reduce data loss scenarios. Your data will be safe even if a device is lost or stolen, due to the password-protected encrypted area.
Locate valuable data
Scan and identify confidential information such as Personally Identifiable Information or Credit Card Number stored on your organization's endpoints. Take remediation actions in case non-compliant data is identified.
Endpoint Protector Highlights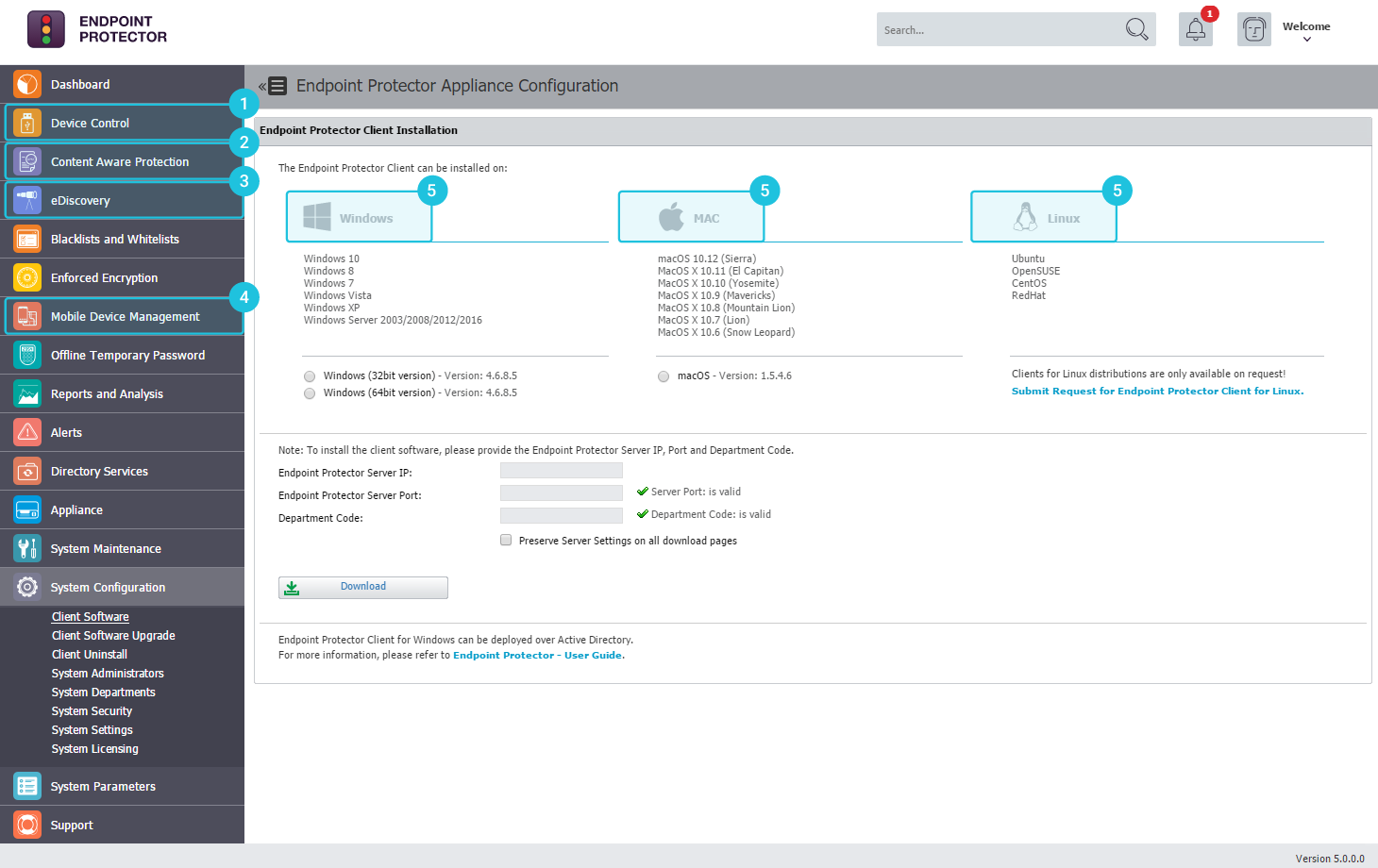 Seamless control of portable storage devices
Control and set rights for removable devices and ports in the Endpoint Management section and establish policies for users, computers and groups.
Monitor and block data transfers
Stop data leakage through the most common applications such as emails, browsers, and other online applications through the Content Aware Protection tab.
Cross-platform eDiscovery
Create policies to inspect data residing on protected Windows, macOS and Linux computers. Discover sensitive data at rest and encrypt or delete it.
Extend data security to mobile devices
Within the same management console, set up security policies for corporate or employee-owned mobile devices.
Protection for Windows, macOS, and Linux
Endpoint Protector takes cross-platform DLP to the next level. Protect data against loss and theft on all company's endpoints.
"Endpoint Protector adds a
strong layer of data security
. It is heavily relied upon for keeping
our data intact and secure
, and works well within our current security plan."
Josh McCown, IT Director, Spectrum of Hope